It's FALL !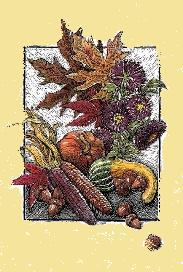 Grapes are plentiful and healthy for you. All types are good, but the darker or redder the grape, the more antioxidents it contains.
Try this simple recipe:
~ GRAPE SALSA ~
1 cup chopped grapes (seedless)
2 tsp. finely grated lemon zest ~or~ orange zest
2 Tbsp. chopped mint or tarragon or fennel
2 Tbsp. chopped yellow tomato
Pinch of salt and pepper
1/2 tsp. chopped halepeno (optional)
Mix and let sit in refrigerator for at least an hour to allow flavors to marry. By using any of the various herbs listed above, you can change the flavor and purpose of this salsa. Luckily, we have moved away from separating savory and sweet foods. It is better for digestion to mix the two and often the competing tastes bring out the flavors.
Serve in many ways: with cream cheese spread on bread, as a topping for rustic pizza (use feta instead of mozzerella and no red sauce--Yes, roasted grapes taste wonderful), omit the halepeno and use as a topping for shortbread or ice cream. It also tastes great on fish or chicken (organic, of course!)