HERBAL LUXURY PRODUCTS
Mountain Spring Herbals Herb Shoppe
ALL PRODUCTS ARE TEMPORARILY ON HOLD UNTIL SPRING. WE ARE IN THE MIDDLE OR RENOVATIONS AND ARE UNABLE TO SHIP ANY ITEMS AT THIS TIME. THANK YOU FOR YOUR PATIENCE!!
Jewelry and Perfume...what is nicer when wanting to pamper yourself?
Lockets are evocative of an era when small treasures were appreciated....Here, instead of a hidden photo, keep a personal scent next to your heart. I am offering two types of scented lockets--both containing an all natural solid perfume scented with high quality Essential Oils. The scent is meant to invite and relax, not overpower. In formulating this particular scent, I wanted something suitable for women of all ages, any time of year. The result is "Solstice Moon", which gives a nod to both the deeply rich and lightly uplifting. Subtle & Unique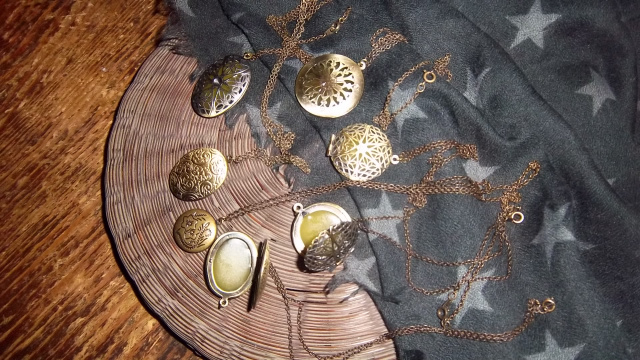 I have Closed lockets that must be opened so that you can apply the enclosed perfume to pulse points. I also have an a Filigree design that can remain closed while the scent is emitted via body heat. While the shapes of each are different, they all hold the same amount of solid perfume, with the exception of the smallest locket.
Each locket contains a solid perfume created from~ Jojaba Oil, beeswax from my own hive and organic essential oils. 18" chain included. Comes in an Organza drawstring bag.
Not everyone likes jewelry, though....
"Imbolc Spice"is a newly formulated liquid perfume that invokes the intense dichotomy of Spring ~ the damp richeness of many remaining cold days and nights, but also the lightness of the increasing warmth and hope of new beginnings.
Using only fine Essential Oils of Anise, Ravensara, Rose and Balsam Peru... in a base of Jojaba Oil, this fragrance is both grounding and expansive... as Spring is a time to slowly unfurl into the world once more after a long winter's rest.
CLICK ON ANY PRODUCT BELOW TO READ MORE INFO AND ADD TO YOUR CART.
____________________________________________________
DISCLAIMER: The content of this web site is not intended to replace the guidance of qualified, certified medical professionals. The author and web hosts of this site do not take responsibility for viewers' health decisions. Views and information presented here are meant to be educational in nature only and not to diagnose or prescribe. Visitors to this site must take full responsibility for their health care and dietary choices.
____________________________________________________