March 4, 2013 @ 6:23 PM
March 4 ~
My oldest daughter has a job requiring hours of standing. Several days ago, her leg became sore and one place near her shin began to swell. I gave her a "drawing" salve to slather on to help deal with a possible infection and pain until she could get it checked out...but I did something else too. Over the years, I have come to respect many healing traditions for the unique aspects thay offer any given healing need, so alongside herbs, I often use a more shamanic type of medicine.
One apprentice sent me a box of Milagros she got on a trip to Mexico---these are small metal castings that are made to resemble different body parts, people, pets, homes....they are meant to aid in prayer over various illnesses and life conditions. Milagro means "miracle".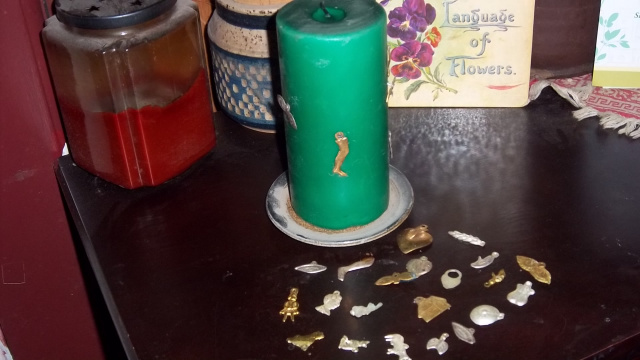 I attatch them to a large candle and light it and say a prayer for the person and in particular, the health concern they face. So, today, the "leg" milagro gets front and center attention. Every time I look at it, it keeps me mindful. I believe that all healing practices are enriched by complimentary modalities....and miracles!